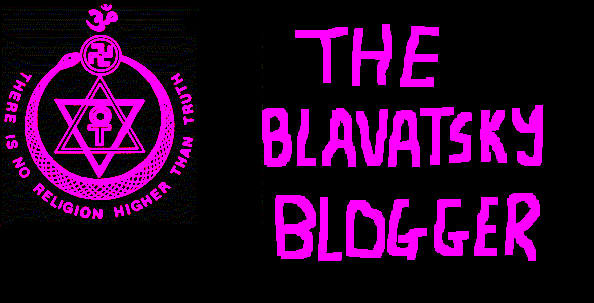 Taking Theosophical ideas
into the 21st century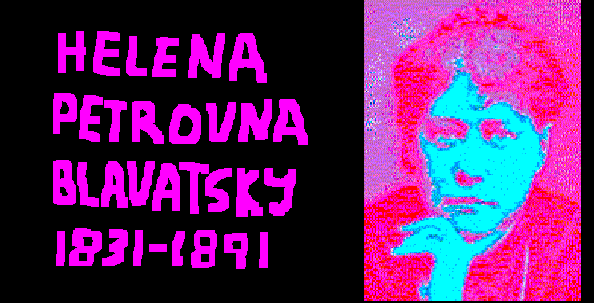 Let's Hear it for Sanskrit
More than just a language
Posted 27/10/06
Theosophists have good business and esoteric reasons for using Sanskrit terms. Sanskrit is not just a language in the sense of verbal communication, it has other dimensions and attributes that go far beyond practical everyday language.
Sanskrit is the ancient religious, philosophical and scientific language of India through which learning has been handed down in written form since at least 1000 BCE. Before the written form arrived, Sanskrit must have been the basis of a phenomenal oral tradition. Despite being the most successful world language, English as we can understand it only goes back about as far as the works of John Skelton 1525ish.
By its esoteric nature and rarified use, Sanskrit has also been protected from distortion and pollution by other languages. English has the problem that some words vary in meaning around the world.
Hindi is one of the modern languages derived from Sanskrit and despite being a widely spoken practical everyday language, it must certainly contain some remnants of the qualities of Sanskrit. It is important, however, to note that Hinduism still preserves the use of Sanskrit. They go to a lot of trouble to do this, so they must know something.
Unfortunately Sanskrit terms are not protected from the inappropriate use, so watch out for this. Anybody can rip off a Sanskrit word and manipulate it for their own purposes.
H P Blavatsky used Sanskrit terms extensively in the Secret Doctrine to convey concepts which were derived principally from Brahminical Hinduism. Many of these words don't just have have no equivalent in any modern language but also convey ideas that aren't found outside esoteric eastern thought. For the same reason H P Blavatsky also used many Tibetan terms.
The sound esoteric reasons for the use of Sanskrit are rightly promoted by the Theosophical movement. Theosophists maintain that Sanskrit is a mystical language which has occult properties inherent within it. These can be summed up as follows:-
1 The Root Meaning of the word embodying the idea with potent significance. (This was the language of sages)
2 The Mystical Sound Value of the word.
3 The force or power of letters, speech or sound.
The current interest in Sanskrit Mantra Chanting has been generated by renewed interest in these properties. It is also claimed that Hebrew has similar properties.
Sanskrit Glossary & Pronunciation Guide
______________________
The Blavatsky Blogger
Taking Theosophical ideas
into the 21st century
__________________________
Postings to this Website reflect
the views of The Blavatsky Blogger.
Please don't go looking for anyone else.
______________________
Other Useful Theosophy Links
Cardiff Theosophical Society Website
The National Wales Theosophy Website
Theosophy Cardiff's Instant Guide to Theosophy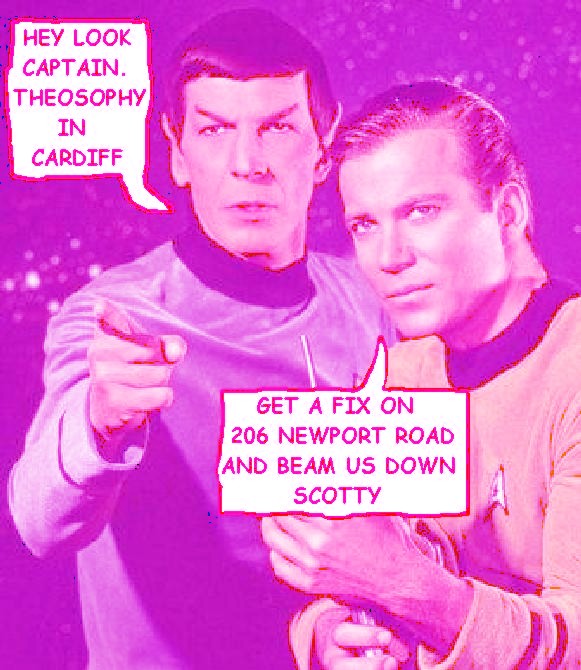 Dave's Streetwise Theosophy Boards
If you run a Theosophy Study Group,
please feel free to use any material on this site
Cardiff Theosophical Order of Service (TOS)
Within the British Isles, The Adyar Theosophical Society has Groups in;
Bangor*Basingstoke*Billericay*Birmingham*Blackburn*Bolton*Bournemouth
Bradford*Bristol*Camberley*Cardiff*Chester*Conwy*Coventry*Dundee*Edinburgh
Folkstone*Glasgow*Grimsby*Inverness*Isle of Man*Lancaster*Leeds*Leicester
Letchworth*London*Manchester*Merseyside*Middlesborough*Newcastle upon Tyne
North Devon*Northampton*Northern Ireland*Norwich*Nottingham
Perth*Republic of Ireland*Sidmouth*Southport*Sussex*Swansea*Torbay
Tunbridge Wells*Wallasey*Warrington*Wembley*Winchester*Worthing
Teosofia en Cardiff (Página en Español)
The main criteria for the inclusion of
links on this site is that they have some
relationship (however tenuous) to Theosophy
and are lightweight, amusing or entertaining.
Topics include Quantum Theory and Socks,
Dick Dastardly and Legendary Blues Singers.
Her Teachers Morya & Koot Hoomi
No Aardvarks were harmed in the
The Voice of the Silence Website
Lentil burgers, a thousand press ups before breakfast and
the daily 25 mile run may put it off for a while but death
seems to get most of us in the end. We are pleased to
present for your consideration, a definitive work on the
subject by a Student of Katherine Tingley entitled
General pages about Wales, Welsh History
and The History of Theosophy in Wales
The Spiritual Home of Urban Theosophy
The Earth Base for Evolutionary Theosophy
What Theosophy Is  From the Absolute to Man
The Formation of a Solar System  The Evolution of Life
The Constitution of Man  After Death  Reincarnation
The Purpose of Life  The Planetary Chains
The Result of Theosophical Study
An Outstanding Introduction to Theosophy
By a student of Katherine Tingley
Elementary Theosophy  Who is the Man?  Body and Soul   
Body, Soul and Spirit  Reincarnation  Karma
Try these if you are looking for a
local Theosophy Group or Centre
UK Listing of Theosophical Groups
Worldwide Directory of Theosophical Links
_________________________
http://www.practicalaction.org
Technology challenging poverty
Practical Action works with poor communities to help them choose and
use technology to improve their lives for today and generations to come.
Cardiff Theosophical Order of Service holds raffles
in support of Practical Action at Theosophy Cardiff meetings.
You may know this charity under its old name of
Intermediate Technology
______________________________
Blog Links
http://london-underground.blogspot.com
This site is a directory of weblogs written by
people who live or work in London, organised
by the rather iconic London Tube map (and also
the central London suburban rail network,
docklands light railway and Croydon tramlink)
http://londonbloggers.iamcal.com/
The Blavatsky Blogger is represented
At Tooting Broadway Station on
_____________________________